5 Apps to Travel Better in India
Dependency on travel apps is increasing as they ease travel troubles and help travelers search, research and book transport and accommodation. These are some apps which work really well if you are about to travel to India.
With questions about whether India is safe or what kind of infrastructure you can expect in the country it is advisable to be armed with these nifty tools which are of great value. The travel apps you see below are those which we use regularly as we travel. These cover almost everything from transport to food.
---
Will I have internet so that I can use these apps?
This is a question that comes up quite frequently- 'will there be internet?' India is an internet savvy country and with the advent of smartphones more people than not, at-least in the bigger cities are dependent of internet. At least 2G is almost universally available in most parts of the country, 3G is available in almost all major cities. Be advised that many remote valleys of Himalayas would have neither 2G nor 3G and may not even have mobile network coverage.
We use 2G internet and it usually suffices for our needs even as we get directions from Google maps (which is one of the must have apps). It is also cheaper when you are roaming. WiFi hot-spots are gaining popularity and you should be able to use internet in most of coffee chains. WiFi availability in hotels and guesthouses is picking up.
Transport
Getting from one place to another can be a big headache in India given the size of country and various modes available. I believe that trains are the best way to see India and get to your destination. They offer a chap and interesting way to travel across the country. Below are two recommendations which will make your travels much easier.
eRail
This is a government run railway app which provides train schedule and updates. It is only related to Indian Railways and performs quite well. Options include searching train by its number or by inserting the start and end points of your journey.
Perhaps the best and quickest use of the app is to check the status of your PNR which will tell you whether your booking is confirmed or not. For people looking to plan their journey it can come in quite handy as it allows you to check availability of seats across all classes and trains that ply between the stations of your choice. Route option gives you a better idea of your train's route and helps you plan better.
If you have ever interacted with Indian railways you would know that bookings start 60 days in advance and most or the prominent routes fill up in first few weeks. This is especially true if you are travelling on a long weekend or in the festival season.
What this app will not do for you is book your train tickets. For that you will have to go to the IRCTC website and endure the time taking procedure. It is still a hassle free job compared to long booking lines at the railway stations.
You can download it
here for Android
,
here for iPhone
and
here for windows
.
Redbus/Goibibo/Yatra and the types
The reason why I group all these apps is because they are all at par and would serve you well.
Redbus
as the name suggest provides you details for buses plying through most parts of India. These are usually higher end buses though ordinary buses on certain routes are also included. You can also book your bus ride through the app.
GoIbibo, Yatra & MakeMyTrip etc. These are multi-modal sites(
Goibibo
,
Yatra
,
MakeMyTrip
) and provide details for flights, buses and accommodation. These portals have emerged as bigger booking gateways compared to airline only websites. With basic discounts that are almost always present and some great deals few times a year, these are handy tools to book last minute flights or plan your travels. Bus bookings and status are usually available along with accommodation. Services available vary with the app in question. I personally prefer GoIbibo and have it on my phone.
---
Accommodation
We all have crazy accommodation stories from ants crawling on the bed to rude staff. A safe and clean place can be difficult to find especially in huge numbers of options available. Costliest places do not always turn out as expected and small boutique places can easily steal the show. Recommendations below will provide you with information enough to take a decision.
Airbnb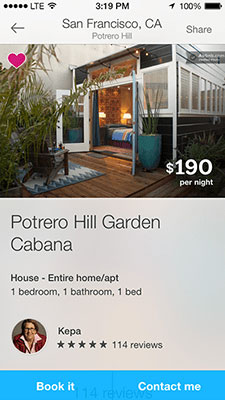 The international phenomenon has come to India and is being widely accepted. With
over 4,500 listings in India
you can almost always find a suitable accommodation to match your needs. Once you have teamed it with the next app you have a great combo for finding reliable accommodation in the country. But beware that there are far too many accommodation options and you will rarely find that a local hotel has been listed on either one of the apps.
Airbnb does have deals once in a while. We recently booked 5 night stay for two for 1500 which comes out as 2.5$ per person per night all because of a 3000 off discount coupon they mailed me.
Download here
TripAdvisor
This might feel like a no-brainer. Yet it doesn't hurt to reinstate that there is probably no other app/site with extensive reviews and listings as TripAdvisor. We have been able to find almost 80% of our accommodations on the site and have benefited from the community. Using TripAdvisor together with Airbnb or Gibibo will help you locate a satisfactory place to stay. The app also comes into use with attractions and city guides that they offer. Almost always our experiences have been similar to the reviews and it is our go-to app while in a crunch.
Download here.
---
Food
Zomato
Over the years since i have been writing reviews on Zomato it has grown and is today a prominent brand for food reviews. It is a yelp of sorts I guess. If you are looking for a restaurant nearby or wan to order food it can help you decide which place to visit or order from.
The app provides restaurant options for your area and then follows up with reviews and menu for most of the restaurant. With its own rating system it is quite easy to sort out the best places. It provides single glance information about availability of bar, cost for two, opening hours and such. Contact information is also available for most restaurants so that you can book a table if required.
Though useful the app covers only major cities of India.
Download here.
---
Above are some of the basic apps that will ease your travel hassles as you travel through India. The list is not exhaustive and there are many new apps which enter the travel arena everyday. These are some that we have used and found useful.
What are you favorite travel apps? Is there any app which works specifically for your country?
You can also Download the PDF version of the post with all the links by clicking on the cover art here. You will be directed to the subscription page. If you are a subscriber please check in the Resource box.
All screenshot are from Google play store.